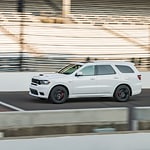 The Dodge Durango is a mid-size SUV popular with families and single drivers alike. When you buy the Dodge Durango, you have the option of enhancing the Dodge experience with one of the brand's bespoke feature packages. The Dodge Blacktop and Brass Monkey packages are two examples of features that can take your Dodge Durango to the next level.
The Blacktop package features black highlights that give off an image of power and control. The 20-inch wheels are completely black, which only accentuates the black exterior mirrors and badges.
The Brass Monkey package, on the other hand, is a dedication to bronze. The black exterior badges are paired with 20-inch eight-spoke bronze wheels. The contrast between the black and the bronze makes for a striking first impression. Come pay us a visit at Drivers Village, Inc. today to take the Dodge Durango for a test drive.